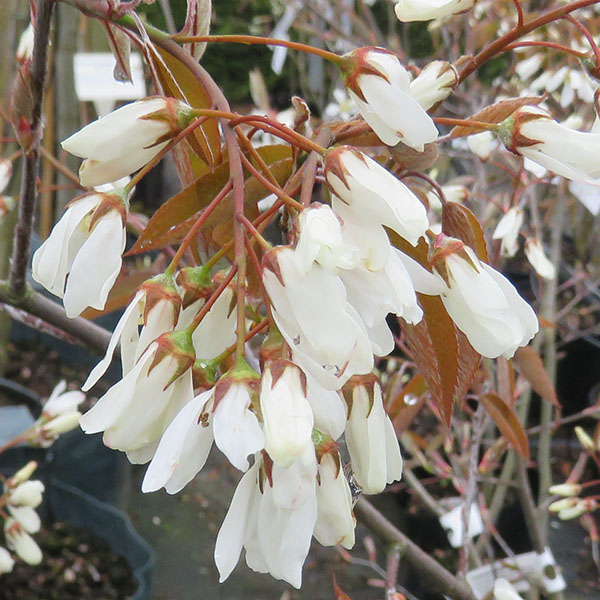 Fantastic February Loyalty Offers
With Valentine's round the corner and spring on it's way, it's a perfect time to TREAT YOURSELF with one of our fantastic loyalty offers this month . . .
Snowy mespilus. A pretty shrub with delicate leaves and racemes of elegant white flowers followed by blue-black fruit. Max Height 6m. Max Spread 3m. Flowers April to May. Fruits June to August. Full sun/partial shade. Hardy. Synonymous with lamarckii.
Only £15.00 per 6lt pot (Was £19.90)

EXCLUSIVELY to Loyalty Card Holders.
Acer palmatum dissectum Garnet
Very finely cut deep reddish foliage. Forms an exceptionally striking mushroom shaped bush. Fertile, humus rich but well drained soil in sun or part shade. Shelter from winds. Height and spread to around 1.5m x 2m

Only £28.00 per 3lt pot (Was £33.50)

EXCLUSIVELY to Loyalty Card Holders.
The Madeira cranesbill is the largest geranium. Huge balls of large purplish pink flowers with magenta centres above lush rosettes of shiny, deeply divided leaves on strong red stems that arch downwards and outwards. An outstanding evergreen variety that is best in a large pot where it can be taken into a cool greenhouse for winter. When repotting take care not to damage the lower leaf stalks as these rest on the ground or pot edge and help support the plant. Cut these off and the plant will invariabley rock snapping the roots and die. Be warned! Can be grown outdoors in a sunny, sheltered location. Height and spread upto 1m. Short lived perennial so collect seeds after flowering. Very special.

Only £5 per pot (Was £6.90)


EXCLUSIVELY to Loyalty Card Holders.