Opening Statement
'We live plants, we love plants'; we are a passionate about the environment and what we can do to enhance wildlife and reduce the negative impacts of the business operations. Together with our customers we work towards a sustainable future, for the benefit of ourselves and for future generations.
1. Environment
The organisation and its employees consistently review actions to reduce any possible discharge or emissions during the company operations to land, watercourses and air. Our telehandler has been obtained as a favourable, more efficient replacement to the previous machinery and where possible employees share commutes to minimise overall journey times. Langthorns Plantery complies with all relevant legislation relating to environmental management and aims to exceed these targets.
Langthorns endeavours to recycle all materials possible with a local waste contractor thereby minimising the amount of waste which is sent to landfill. Senior management and staff aim to deliver a high standard of recycling relating to all growing materials, office waste and in the staff break room. It is encouraged for all customers and parties in the supply chain to reuse, repurpose or return any non-recyclable plastic where fit for purpose. Plantery policy is such that all pots are reused within the business or made available to local schools, gardening clubs for free. This ensures that the maximum possible recyclable waste is processed with our contractor and all pots have been utilised fully in their operational lifespan. Additionally all plant arising and spent growing media are composted on site, no organic material is sent to landfill. Viable composts are used within the grounds to ameliorate the land and cycle nutrients back into the local environment.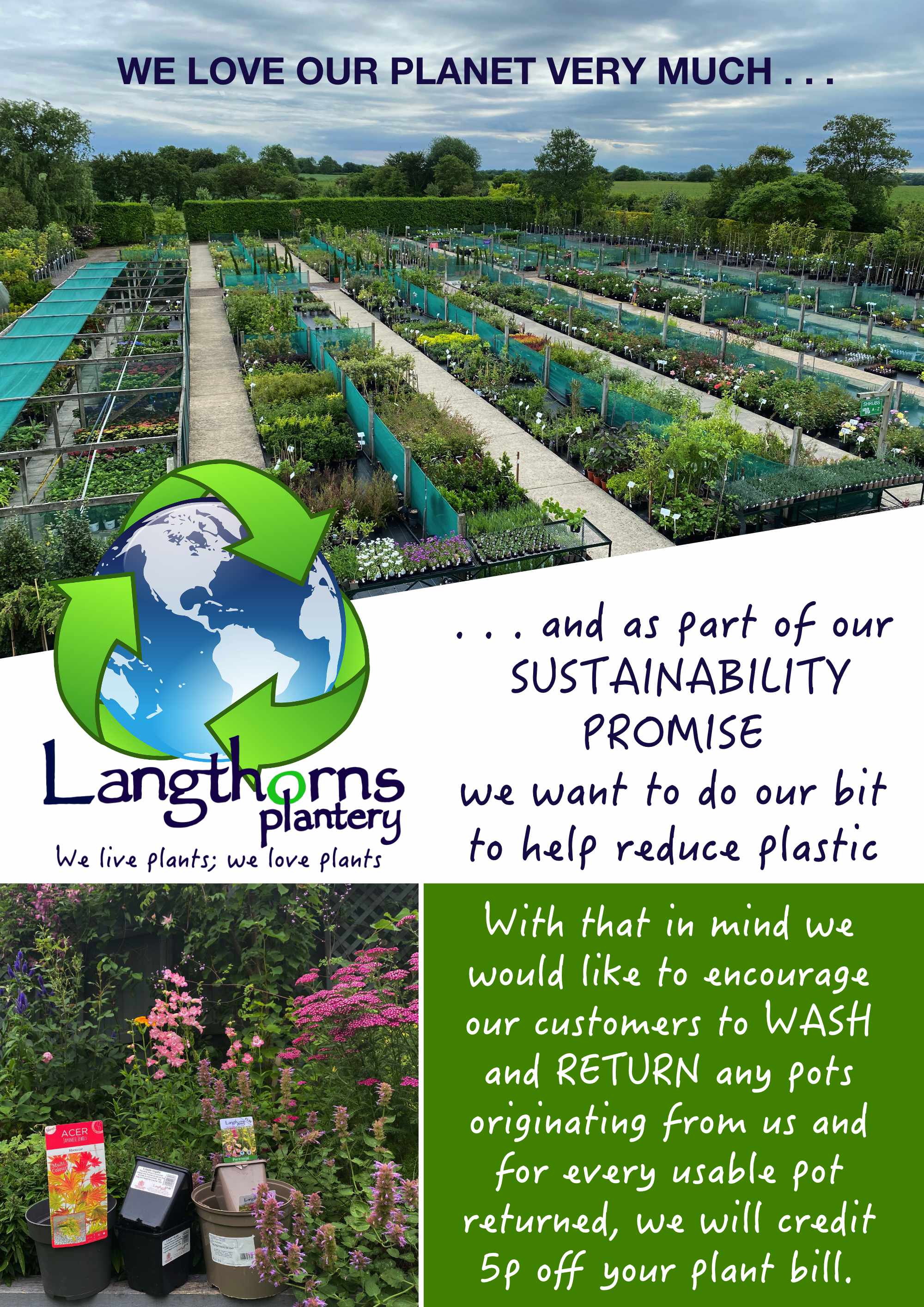 III.
Sustainable procurement
Materials for sale and used in production are sourced from sustainably conscientious suppliers. As preference, wood and cardboard products are sourced bearing the Forest Stewardship Council (FSC) certification. All cardboard used in the processing of deliveries is 100% recycled material and addition cardboard materials are utilised from a local supermarket to benefit customers during transit of their purchases. Any surplus materials are recycled and the same behaviour is expected of our customers. Langthorns Plantery utilises the suppliers' use of consolidated shipments, where stock is held and sent out as fewer larger deliveries to limit emissions. Plants from the supply chain are from countries that have no water scarcity as outlined by the United Department of Economic and Social Affairs (UNDESA, 2015) and preference is given to any products which are UK produced and sustainable. As far as reasonable practicable Langthorns endeavours to produce cuttings, seed raised stock in house and favours UK grown produce to increase the business sustainability.
Our friendly and knowledgeable staff aim to share our wealth of information with customers helping them to make correct plant choices and are informed with the best methods for aftercare. This serves the customer well to enhance their gardens and should also assist patrons to minimise their own consumption of resources through adopting the best aftercare practices.
V.
Resource consumption and carbon footprint
Langthorns Plantery uses very little electrical light and natural gas: all natural light is utilised throughout the growing structures and supplementary heating is only provided to those plants requiring extra protection to survive the British weather in the winter period. From a longer term perspective: to engage in methods of reducing environmental impact the business follows the guidance from the Defra 'Small Business User Guide: Guidance on how to measure your greenhouse gas emissions' (Defra, 2012).
| | | | |
| --- | --- | --- | --- |
| | 2015-16 | 2016-17 | 2017-18 |
| Energy used in Buildings & Processes (kWh) | 1324 | 662 | 993 |
| Total Energy (kWh) | 13394 | 14831 | 10784 |
| Total Emissions (KgCO²e) | 3198 | 3555 | 2595 |
| Equivalence in Carbon (Kg) | 873.1 | 970.5 | 708.4 |
Figure 1 - Results of greenhouse gas emissions for Langthorns Plantery years 2015-18
Langthorns Plantery has looked at incorporating renewable energy sources in the past and has not made the change due to it not meeting commercials targets for return on investment. However this matter is kept under review and introduction would be considered if conditions meet the company policy for capital return on investment. Further to this items stocked for resale are made from renewable sources as much as can meet market demands.
Overall water stewardship is a crucial mind-set embedded in our philosophy and watering efficiency a fundamental cornerstone of the business which is instructed to all of our staff. Langthorns Plantery draws water from a borehole on site for the irrigation of crops, as such rainwater collected from surfaces is allowed to soak back to the natural aquifer. The primary method of watering is by hand by highly skilled staff; this individual watering method is labour intensive but does mean each plant receives the correct amount of water. This minimises wastage and is an additionally opportunity for crop inspections thereby identifying and remedying any issues at the earliest stages possible. Automated irrigation systems are used by Langthorns to irrigate the tree lines via drippers, however this is only done during the mornings and evenings. This allows for better soil infiltration and water loss through evaporation, transpiration rates is at its lowest at these times of the day (Barley, 2018). Overhead sprinklers can also be adopted on the Plantery but only as part of the watering process for those crops or as a leaf hydrating exercise. This is also subject to the time of the day and only if the wind speed/direction allows for its effective use. Any leaks in the irrigation facilities and hoses are also repaired upon detection and the watering of specimens around the site is managed through a priority bases. Mulches are applied throughout the year and only those trees, shrubs which could suffer are watered by hand, similar guidance is given to our customers.
2. Growing media
Langthorns Plantery over the past fifteen years has conducted a number of experiments with suppliers on the use of peat free composts, this has now seen us move to a selection of peat free growing media. However, this is still an area of concern to Langthorns and the industry as a whole; where increasing research and development is still being undertaken. Senior management are aware of the horticultural industries commitment to the 2030 target of being peat free (Gov, 2010) and how this is a commercially sensitive topic. Since 2016 we have extensively tested the Melcourt SIlvagrow range of peat free composts and in conclusion with Melcourt have devised our recipe that we now use to grow all our plants and is also available to purchase along with a range of other peat free products.
At Langthorns we are committed to high quality plant growth and through conducting trails have found many positive results. The range of new growing materials shows many positive signs and we have the view that it is the case of finding which plant is best suited to what growing medium. Most recently Langthorns Plantery has taken the decision to trial a new source of growing medium for internal use and for retail sales based upon a composition of UK bracken and sheep wool https://www.dalefootcomposts.co.uk/. The hydroscopic properties of the compost result in better water conservation (Dalefoot Composts, 2018) and being sustainably managed in the UK will have a significantly lower ecological footprint.
Many of the composts used on site and available for purchase are locally sourced and is a further addition to our approach of reducing the company carbon footprint. Field Compost is a local Cambridgeshire based business with whom we have a good relationship whereby we use, sell and promote their products, and all of their produce is 100% peat free https://www.fieldcompost.co.uk/ (Field Co, 2018).
3. Integrated Pest Management (IPM)
Langthorns Plantery annually reviews the use of pesticides and aims to exceed legislations regarding the use of synthetic chemical approaches to weed, pest and disease management. The number of physical, cultural and biological controls has grown considerably over the last ten years and will always be used as preference and as a first line of defence. In the last two years numerous products have been used in our approach to IPM:
a.
Amblyseius andersoni (ANDERLINE) – predatory mite used to protect against two-spotted spider mite, broad mite, russet mite, carmine mite, European red mite, cyclamen mite, as well as thrip larvae (BiolineAgro, 2018).
b.
Heterohabditis spp. (EXHIBITLINE H) – nematode used in plant production against black vine weevil larvae and other soil living larvae (Fargro, 2018)
c.
Steinernema kraussei (NEMASYS L) – nematode used in plant production against black vine weevil larvae and other soil living larvae, particularly effective at low temperatures (Fargro, 2018).
d.
Phytoseiulus persimilis (PHYTOLINE) – predatory mite that actively hunts and attacks all stages of red spotted spider mite and two spotted spider mite (BiolineAgro, 2018).
e.
Aphidius colemani (APHILINE) – natural parasite, Braconid Wasp, used to protect against aphids (BiolineAgro, 2018).
f.
Bacillus subtilis (SERENADE) – Bio-fungicide containing beneficial bacteria (GrowOrganic, 2018).
g.
Encarsia formosa (ENCARLINE F) – Parasitic wasp used to control whitefly (Fargro, 2018).
h.
Aphidoletes aphidimyza (APHIDIOLINE) – Predatory midge that protects against aphids at different stages (BiolineAgro, 2018).
i.
SB INVIGORATOR – Environmentally friendly plant pesticide, mildewcide; physical mode of action (SBPI, 2018).
Langthorns Plantery is in constant contact with its suppliers and forums in reviewing the best practices for controlling pest and disease that affects product lines and manages IPM strategies as dictated by governing bodies.
4. Biodiversity and local ecology
Climate change and biodiversity are inextricably linked and for successful environmental management these issues need to be tackled together: It is not just a matter of helping the fauna and flora survive the changing weather but we also need to resolve: carbon footprints, recycling issues, the use of chemicals, our resource consumption and emissions all simultaneously (UNFCC, 2018). The UK National Ecosystem Assessment (2016) reported domestic gardens account for 18% of urban land use (UK NEA, 2016), a significant figure demonstrating how different elements of horticulture will unquestionably be major facets in the preservation of our ecology but also in the control of climate change.
Langthorns Plantery has been striving over the years by the use of naturalised hardy plants that attract, feed and combine to give a more biodiverse environment to the benefit of a wide range of birds, butterflies, bees, insects and invertebrates. The Plantery actively increases the number of native species of trees and shrubs throughout the grounds and boarders to enhance the habitats and improve the ecology. The development a second pond ecosystem is underway and will provide an additional natural reserve for wildlife in years to come. Where a large number of different genus and species are present on the nursery, we are capable of supporting a rich diversity and can be seen in the many different organisms and pollinators present at the site. Additionally many organic feeds are used on the grounds and in production to maintain the health of species and soils at Langthorns. Numerous bird feed stations are also present throughout the year and we stock a range of products aimed at enhancing the ecology further afield into customer's gardens. An approach which serves to benefit everyone in the supply chain and local wildlife all at once.
In 2017 we saw the installation of 5 Gardeners Beehives in response to growing concern of bee populations (DEFRA, 2014). This has numerous advantages: pollination of plants at the nursery, the potential of honey to be harvested after year 3, the opportunity for another local business to gain access to wider market and most importantly help declining bee populations https://gardenersbeehive.com/ (Kevin, 2018).
5. Social and economic
I.
Support of businesses, charities, and local organisations
Langthorns Plantery looks to help local schools, businesses and gardening clubs by supporting horticultural initiatives: helping to recycle, reuse and share resources, and by acting as a conduit for complementary businesses. Working closely with organisations such as Dunmow Fencing https://www.dunmowfencingsupplies.co.uk/, actively promoting their products to our customers and who share the same ethos in their sourcing of sustainable materials (DunmowFencing, 2018). Over the years Langthorns has also been successful in aiding the development of many young horticulturists from Writtle University and continues to support local charities with plant donations to help local good causes.
II.
Training and community engagement
Each year Langthorns invites the public to share in a weekend at Langthorns to enjoy the gardens and learn about the plants and business. We find this a very successful method of benefiting our customers as well as promoting the things we are aiming to achieve. Every year we also provide pruning and masterclasses for customers as means of improving our customers understanding of vital garden maintenance and both opportunities should serve well to enhance the sustainability of the business.
As a rural business Langthorns Plantery is aware of rural isolation and endeavours to be a place where the customer is seen as part of the family and where all have the ability of upskilling knowledge. Langthorns undertakes an aim to pay higher than the minimum wage and is moving towards the living wage for all its workers. As an employer a love of plants, trees and shrubs is the only pre-requisite to joining this horticultural business; as can be seen by the tagline "We Live Plants, We Love Plants". A desire to embed yourself with the horticultural community is the only true commitment.
6. Supply chain resilience
Langthorns Plantery has undertaken enquiry with all of its major suppliers, company policy relating to the eradication of modern day slavery, if any, from their supply chains and that companies are actively engaged in meeting the International Labour Organization (ILO) protocols and conventions with regard to forced labour. For organisations that come under UK regulation we will require statements that comply under the Modern Day Slavery Act, 2015. We will also be asking our suppliers as their use of gang masters and the policies and procedures that they have in place to ensure that they are abiding to ILO standards as a minimum.
Langthorns has reviewed and will ensure that it always exceeds the base code expectations as set by the Ethical Trading Initiative (ETI). A copy is available on file.
In a nut shell
•
Adhere to and exceed all legislation relating to environmental policy and codes of practice.
•
Reduce energy and resource consumption where the business can practicably and reasonable comply, with yearly reviews.
•
Minimise all forms of wastage and recycle all possible materials thereby sending as little to landfill as manageable.
•
Use all sustainable growing media and provide information regarding this topic to our customers.
•
Stock items which are sourced ethically, are beneficial to the environment and presented to customers in an informed manner.
•
Adopt alternative IMP strategies for the control of pest and disease and for all operators to be highly skilled in the operation.
•
The business operators with a view to having positive influences on local biodiversity and beneficial impacts to the local and wider ecology.
•
Water stewardship and efficiency is a fundamental principle we hold at the business and impart throughout the family.
•
Langthorns operates with an equal opportunities approach to employment and this ethos is demanded throughout the supply chain.
•
The efficiency of all matters relating to the environment is of upmost importance to the business and is expected with whomever we operate.
•
Langthorns Plantery has a commitment to high quality plant growth and will endeavour to undertake all reasonable research to produce those plants in the most sustainable manner.
•
Make reasonable effort to stock UK grown plants and to propagate in house for sustainably produced plants.
•
We have an overall pledge to strive on all and any improvements outlined in our sustainability policy.
•
'We love plants, we live plants!' and will support all those who do as well.
References