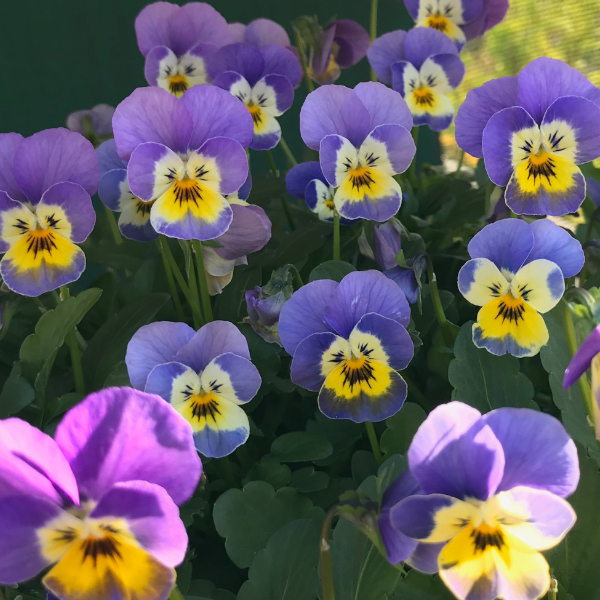 What Our Customers Say
We are very proud of the wonderful feedback we have received from our customers and these are a selection of genuine customer comments that have been taken directly from our Facebook and Google Reviews pages. These can also be viewed by searching Langthorns Plantery on your internet browser.


31st Oct 2018, Nikki says:
"Yes great plants and great advice from very knowledgeable staff"
4th October 2018, Eb says:
"It's not a garden centre that will sell you Peruvian wind chimes. It is all about the plants: They last!"


10th September 2018, Elaine B says:
"

large selection of plants which is great for a serious gardener who is looking for a choice of plants"


24th August 2018, Teresa says:

"Knowledgeable and an amazing selection of plants in perfect condition. It's no wonder the Queen gets her plants there"



3rd June 2018, Alimer says:
"Our first visit today to this amazing place, we went on a search for a spotty Dotty and we got one plus a lot more, beautiful place helpful staff we will definitely be going back, super great selection of plants to".



8th May 2018, Lorraine says:
"Really helpful and knowledgable staff, who actually seemed pleased help! Hence we keep returning!"



15th April 2018, Ian says:
"I have just been to Langthorns for the first time today, amazing plants and fantastic prices. Will definitely be back for more plants this Summer."



15th April 2018, Marissa says:
"I don't go anywhere else these days. Fantastic quality and advice. What they don't know isn't worth knowing"



30th March 2018, Paul says:
"Love Langthorns. Great selection, well priced and incredibly helpful people on hand to give advice"



24th February 2018, Fred says:
"A great selection with well informed and helpful staff. I just popped in for some bamboo and left with a car full, including a lovely smoke tree. Highly recommended."



24th November 2017, Isobel says:
"Always a pleasure to visit and there is advice from staff whenever you go . . . we never come home empty handed and usually with something unusual."



23rd October 2017, Russell says:
'Excellent plants and staff so helpful, plus extremely knowledgeable".



26th August 2017, Michelle says:
"Always well stocked with so many varieties of plants and shrubs. The staff are always willing to help and provide great advice. I would certainly recommend this little haven to anyone!"



26th August 2017, Sheila says:
"Love my trips to Langthornes, super plants, helpful staff and everything seems to thrive very well at home. Good value too!"



6th August 2017 - Selina says:
"Great place, very knowledgeable and helpful people will be back for our new hedge later in the year."



29th July 2017, Susan says:
"Love this Plant Centre. So much to choose from and such quality. Thank you Langthorns."



28th July 2017, Coral says:
"We have been buying our shrubs and plants over the last 10yrs. Our shrubs and conifers are well mature now and was so healthy when we bought them that soon made progress. They are a joy to us and others that visit our garden and everyone says how healthy they look. I have often asked advice from Ed or the other staff and they have always spent time with my husband and I to answer any problem we may have had. The Cream Tea event is well worth a visit also thee tour very interesting. It so nice to walk round the plantery at ones leisure. Well done to Ed and Family and staff its a pleasurable place to visit and we are always tempted to buy something that is very unusual eg; The Japaneze Larch I bought one for my son and had to have one myself !!!"



4th May 2017, Helen says:
"The best Plant Nursery. The open weekend is amazing. This allows you to take a tour of the garden if you book in advance and you are up close with The head plantsman, who is only too pleased to share his extensive knowledge with you. The variety of unusual plants here never ceases to amaze me, and all plants are kept in amazing shape. The only problem is you want to buy everything!"



1st May 2017, Tim says:
"Huge choice of plants and honest advice"



29th April 2017, Alice says:
Great garden centre. Such friendly and helpful staff"



28th April 2017, Kulli says:
"What a find this place is! As a beginner, the helpful staff help me source what I wanted/needed for a particular spot. Now looks fabulous. Thank you!"



6th April 2017, Elaine says:
Love visiting Langthorns and have spent far too much there over many years!"



15th March 2017 - Karen says:
"Spent a very pleasant couple of hours here choosing some lovely plants. Everything is of top quality and beautifully laid out. It is displayed with clear labels with information about planting location and care. Staff were really helpful and prices very reasonable"



2nd July 2017, Doreen says:
"Thanks Ed for the guided tour today very enjoyable and your outstanding knowledge will enable us to make informed choices of plants for our own garden. Well worth a visit especially if you are looking for something a little different for the garden at responsible prices."



11th May 2017, Geoff says:
"Probably the best plant nursery in Essex, love this place, has great range of interesting plants, helpful & knowledgeable staff and superb countryside location."



10th January 2017, Paul says:
"Worked here 22 years ago so nice to see it has gone from strength to strength. Always be grateful for the knowledge and enthusiasm of the owners. Must visit again soon!"