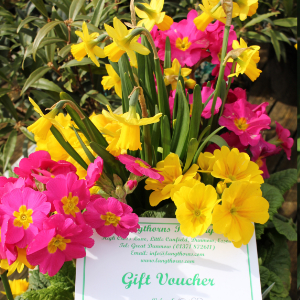 Irresistible Ideas for a Mother's Day Gift
Show your incredible mum how much you love her by giving a gift that will last.
Whether it's a pot of bright and cheerful Narcissus Tete a Tete, or a graceful cherry blossom tree, whatever your budget and garden size, we can help you find the perfect gift.

If you're not green fingered, then why not leave it to us and we'll pot your chosen plants for you **
Popular items, year on year are Langthorns Gift Vouchers. There is no greater pleasure than visiting the Plantery on a sunny, warm spring day and having a relaxed wander waiting for that exceptional plant to shout out to you as you pass. Our vouchers are valid for a fantastic 3 years so there is no need to hurry either.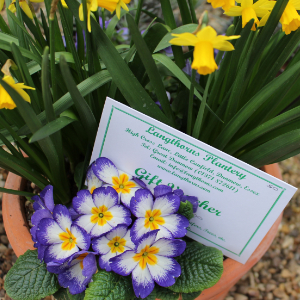 Follow these links for spring flowering trees or shrubs.
If your mum loves her plants then she'll be delighted with your choice whether it is flowering now or later. The top picks for gifts that flower later in the year have to be Roses, Peonias, climbers such as Wisteria, Clematis and Jasmine, and showy evergreen shrubs such as Camellias and Rhododendrons.
If there is just too much choice then please look though some of the ideas below for inspiration:
** There is a small charge for planting your gifts which will vary according to the pot size you have chosen. At busy times, please allow us time to do this for you.