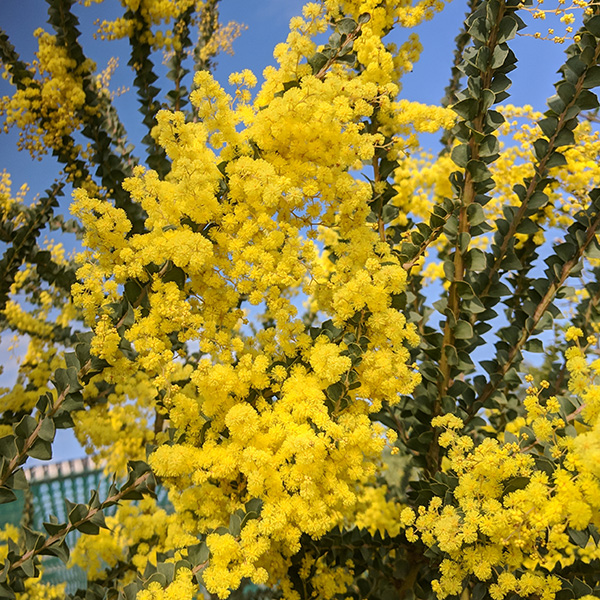 Stories from Langthorns - Acacia pravissima
One of the many pleasures of visiting the South of France in late winter is to walk amongst the Mimosa trees and feel that uplift of the heart from the beautiful cloud of sharp sunshine yellow pom-pom flowers and to smell their intoxicating and unusual scent. The trees grow wild, covering the granite hills around Tanneron at the edge of the Alpes Maritimes. Down on the coast, at Mandelieu in the Bay of Cannes, a festival takes place every February to celebrate the glory of the Mimosa and the coming of Spring.
There is also the wonderful 'Route du Mimosa', taking in several towns and ending at the perfume capital of Grasse, where the great perfume houses use Mimosa, known as cassie, as an ingredient in many signature perfumes.
The most commonly found species of Mimosa growing in the area is the widely known Acacia dealbata – the Florists Mimosa. It originates from the south-eastern corner of Australia and was discovered and collected by Joseph Banks on Captain James Cook's voyage to Australia from 1768 to 1771. In the early nineteenth century it was brought to the Côte d'Azur by the wealthy British who were colonising the area with grand holiday homes and fabulous gardens.
Another species, Acacia farnesiana (named after the Villa Farnese Gardens in Italy, where it was growing as early as the beginning of the seventeenth century and had originated from Santa Domingo in the Caribbean) was introduced directly to France later in the nineteenth century.
Both these Mimosas flourished and escaped the confines of the gardens into the surrounding hills. They contributed to the spectacular landscape that is such an attraction today, although now the plantations of the Cassier (Acacia farnesiana) are largely replaced by the Florists Mimosa and the Ever-Blooming Wattle (Acacia retinodes) which has distinctively willowy foliage.
Acacia dealbata can be grown in the UK in milder gardens; but slightly hardier, more fun and easier to grow for us in Essex is Acacia pravissima. The Oven's Wattle (named for its collection place, Oven's Valley in Victoria) has the characteristic scented and lovely sharp lemon yellow fluff balls (blooming around March) and a weeping habit which looks lovely as a small tree or a dense shrub. But the evergreen foliage is distinctively triangular and rather crazy looking. It's a real showstopper of a plant with its textural branches covered with soft, arching spines - they're actually not leaves but small phyllodes or modified flattened leaf stalks.
This very special plant makes an architectural statement on its own, or you could plant a small grove, pour yourself an Apéro and imagine you are in the hills above the Riviera.